CoolSculpting®
Evidence-based, results-driven™
-
Kao Aesthetics
Model
CoolSculpting® is one of the most efficient methods for body contouring, offering a non-invasive technique compared to the traditional liposuction process. With CoolSculpting®, patients can minimize visible fat bulges, making it one of the most recognized tools in aesthetic medicine.
CoolSculpting® effectively treats the abdomen, flanks, inner and outer thighs, bra fat, back, arms, under the chin, under the butt cheeks (banana roll), and above the knee.
What Is the KAO Aesthetics Difference?
At its core, CoolSculpting® is a simple process; however, the utilization of this tool and the comprehensive knowledge of how to combine this technology with others is what takes our CoolSculpting® treatment to the next level.
KAO Aesthetics is continuously seeking tools and protocols, like CoolSculpting®, that address the core of your aesthetic concerns, performed by practitioners who have completed the highest level of CoolSculpting® training and certification. This level of education, skill, and artistry places the professionals at KAO Aesthetics far above the rest.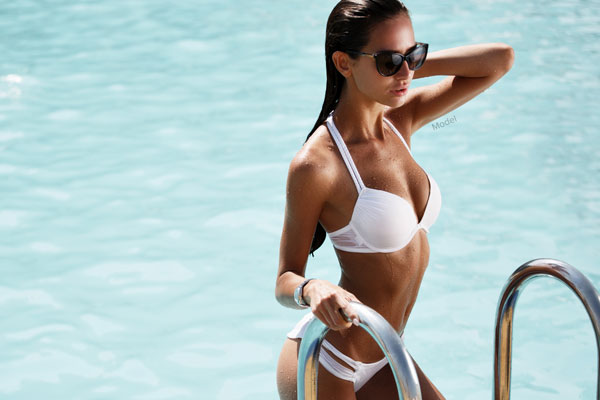 Fat Reduction Without Incisions
CoolSculpting® technology uses customizable applicators to deliver controlled cooling into the adipose tissue under the skin. Fat cells are frozen, broken down, and then flushed out through the natural processes associated with the lymphatic system.
KAO Aesthetics combines one or several CoolSculpting® applicators with additional therapies or tools to address your needs and help achieve a slimmer physique.
Faster Treatments With DualSculpting®
With DualSculpting®, patients are no longer limited to treating a single body area during a session. The practitioners at KAO Aesthetics expertly utilize two CoolSculpting® devices simultaneously to remove fatty tissue without harming the surrounding healthy cells. The two-head process effectively cuts your treatment time in half, saving hours worth of time and immediately returning our patients to their regular, fast-paced lifestyles.  
Our wide selection of applicators, including the CoolMini® for submental fat, allows for a uniquely comprehensive CoolSculpting® session. 
TriPollar®-Enhanced CoolSculpting®
KAO Aesthetics pushes the possibilities of CoolSculpting® even further by adding TriPollar® technology for non-invasive skin tightening. TriPollar® uses radiofrequency currents to heat and disrupt the triglycerides within fat cells. This radiofrequency energy stimulates blood circulation, helping to increase collagen production for healthier skin and increased elasticity. For some patients, this addition helps support the reduction of stretch marks and cellulite while contributing to overall skin firmness.
The heat from the TriPollar® also helps promote tissue contracting, which you cannot achieve with CoolSculpting® alone. The synergistic combination of TriPollar®-Enhanced CoolSculpting® is one of the many examples of KAO Aesthetics' dedication to scientific developments in the world of integrative aesthetic medicine.
CoolSculpting® Add-On Treatments
Body Wrap
KAO Aesthetics is persistent in evolving the resources we provide with CoolSculpting® to perfect and improve its ability to detoxify your body. The inclusion of a body wrap is designed to eliminate toxins, aid in fat reduction, and suppress the appearance of cellulite. A body wrap may be performed before your CoolSculpting® treatment to help heat the fat, optimizing results, or following your treatment session to provide energy while you are waiting for your results to develop.
Infrared Body Wrap
The infrared body wrap improves upon the benefits of a traditional body wrap with the introduction of infrared heat to stimulate the healing process and help promote tissue contraction.
Diet Drip
KAO Aesthetics offers a nutritional IV diet drip in conjunction with your CoolSculpting® to support the weight loss process by helping to promote vitamin intake that has been shown to benefit weight loss. KAO Aesthetics' signature IV offers a comprehensive replenishing of essential vitamins, minerals, and amino acids that may not be found in a regular diet.
"Skinny B" Shots
The "Skinny B" shot utilizes a combination of lipotropic injections with amino acids and B vitamins. This shot helps support your metabolism, boosts energy, and can improve liver function.
When used in combination with CoolSculpting®, some patients have experienced more effective results following their procedure.