Radiofrequency Treatments in Santa Monica
Evidence-based, results-driven™
-
Kao Aesthetics
Model
Radiofrequency (RF) treatments use electromagnetic energy waves to tighten, refine, and contour the face and body. Radiofrequency is an energy application device (delivery system) that can tighten or ablate skin and remodel tissues for total face and body contouring.
At KAO Aesthetics, our skin specialists commonly recommend RF treatments because of their uniquely versatile nature. Whether it be face, neck, or body trouble, our skin professionals will evaluate your needs and develop an RF treatment that works best for you.
Radiofrequency devices effectively treat skin laxity, wrinkles, cellulite, mild deposits of excess fat, pigmentation, dark spots, and scars.
Understanding the Difference Between Radiofrequency and Laser
Although many radiofrequency and laser treatments target similar aesthetic concerns, they are not interchangeable. These treatment applications deliver energy waves to the skin to treat common cosmetic problems. 
Radiofrequency uses electromagnetic waves to penetrate the skin and stimulate collagen production. Lasers use controlled heat to remove the top layers of skin, exposing the healthier skin layer below.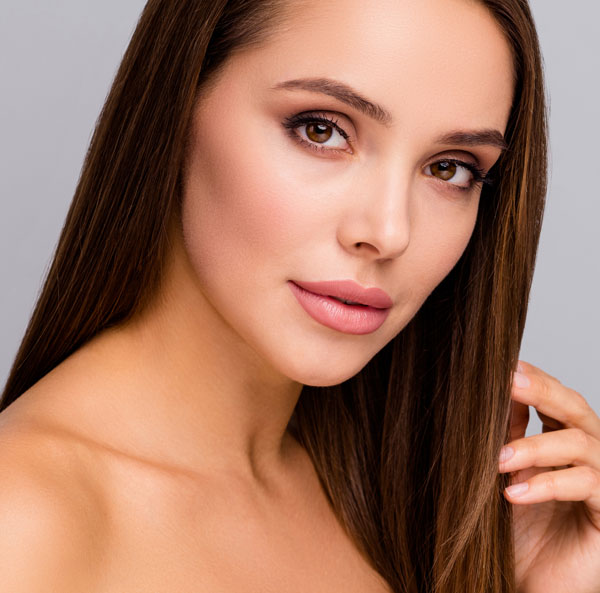 Model
Renew Your Face and Body With Radiofrequency Treatments
SkinFinity RF
This fractional, ablative radiofrequency skin tightening tool targets skin laxity on the face and body. This technology has been shown to stimulate a collagen remodeling process that improves fine lines, wrinkles, stretch marks, acne scars, and irregular skin texture.
TriPollar®
TriPollar™ RF combines mono and bipolar radiofrequency energy to tighten skin, reduce cellulite, and remodel tissue on the face and body. When this energy is applied to the tissues, collagen production is stimulated to create a lifting and tightening effect.
TriPollar® uses radiofrequency energy to heat and disrupt the triglycerides within fat cells, stimulate blood circulation, and increase collagen.
Morpheus8™ RF
Morpheus8™ is a fractional, radiofrequency microneedling treatment that delivers subdermal adipose remodeling to the face and body for a younger and fitter appearance.
The Morpheus8™ device has two tips that target different skin depths, allowing for surface-level and deep tissue remodeling.
Radiofrequency microneedling is a non-invasive laser skin resurfacing and tissue remodeling procedure that combines radiofrequency and fine needles to stimulate collagen, thereby addressing an assortment of skin complications. Effective in treating scars, stretch marks, and wrinkles, radiofrequency microneedling can be fully optimized for maintenance, prevention, or therapeutic properties.
Additionally, because this device is energy-based and not light-based, it can adapt to all skin tones and colors.
FaceTite®
FaceTite® uses radiofrequency energy to reverse the negative signs of aging on the face and neck (including the chin and jawline) for a tighter and firmer appearance. This tool offers minimally invasive face and neck contouring by applying RF energy above and below the skin simultaneously, allowing for tissue remodeling and fat coagulation.
BodyTite®
BodyTite® uses RF technology to remodel the abdomen, hips, thighs, arms, and other areas of the body by coagulating adipose tissue and contracting the dermis and subdermal connective tissue. This tool allows patients to reduce skin laxity and unwanted fat.
AccuTite™
AccuTite™ offers precision skin contraction and fat reduction in the smallest and most delicate regions of the face and body. Combining FaceTite® and BodyTite® technologies, AccuTite™ offers improvement in areas like the brows, nasolabial folds, periorbital region, lower face, and neck.
Uncover Numerous Benefits With Radiofrequency Treatments
Skin Resurfacing
Radiofrequency skin resurfacing helps you look younger and healthier by treating the deeper causes of facial aging and pigmentation irregularities.
Wrinkles and fine lines that result from collagen loss are smoothed with RF treatments. RF also destroys overly pigmented cells, such as from sun damage or scarring.
Skin Tightening
Radiofrequency skin tightening treatments use the heat generated from RF energy to stimulate subdermal collagen and elastin production. RF treatments for skin tightening can be used to restore a firmer skin tone in the face, neck, and body.
Cellulite Reduction
Radiofrequency treatment reduces the appearance of cellulite by heating the underlying fatty layers that cause dimpling. The heating process causes tissue tightening and increases blood circulation. Fat deposits are drained through the lymphatic system, resulting in a decreased cellulite appearance.
Body Contouring
Like other radiofrequency treatments, the key to body contouring is heat energy. RF body contouring melts away unwanted fat, leaving you with a slimmer and sleeker figure.
Energy directed into the fat cells destroys them, and they are eliminated through your body's natural waste process. RF body contouring can be used in a variety of areas, including the face, neck, and body.
Unsure of the right radiofrequency treatment to address your skin or body concerns? Review our diagnostic guide to find the right solution for your needs, or schedule a skin evaluation with our trained skin care specialists.