Skin Resurfacing (Laser Treatments) in Santa Monica
Evidence-based, results-driven™
-
Kao Aesthetics
Model
KAO Aesthetics approaches skin rejuvenation through unique laser treatments designed and uniquely configured to smooth texture, pull pigment, target specific skin problems, and refine tone while being sensitive and advantageous for your skin type.
A detailed consultation with one of our highly experienced aesthetic nurses is needed to determine which laser will provide you with the most dramatic results.
Effectively treats wrinkles, poor skin texture, skin discoloration, hyperpigmentation, scarring, and skin laxity.
Realize Flawless Skin With Kao Aesthetics
KAO Aesthetics is at the forefront of innovative laser treatments designed to restore and nurture skin health and clarity. Patients will find that our extensive selection of sophisticated techniques is informed by years of breakthrough discovery and an endless pursuit of aesthetic advancement.
Our skilled aesthetic nurses and medical practitioners are here to help restore your skin to its optimal levels with personalized laser treatments.
Clear + Brilliant®
Patients are carefully assessed during their initial consultation to detect what issues they face and what laser resurfacing tactics will best treat their concerns. Clear + Brilliant® resolves many of the problems men and women experience with regular sun damage and environmental stress, including skin texture improvement, pore size reduction, pigmentation correction, and fine line minimization.
Clear + Brilliant® uses a gentle laser handpiece to target discolored regions and areas most compromised by signs of aging. The Clear + Brilliant® device uses Intelligent Optical Tracking™, a system that ensures the tool's handpiece maintains consistent contact and provides an even application to the skin.
As the tip of the laser pulsates across treatment (uniformly), microscopic treatment zones are created.
The combination of superficial and deep disruption leaves the skin feeling smoother and younger after the brief 20-minute sessions as the body's natural healing process is catalyzed.
Clear + Brilliant® Perméa
Clear + Brilliant® Perméa is a variation of the treatment that utilizes a specialized handpiece to target the skin's tone, texture, and permeability specifically.
This allows for better absorption of the skin care products applied directly after the treatment.
Model
CO2 Laser
KAO Aesthetics provides CO2 laser treatments for advanced and dramatic results. Known as the gold standard of skin resurfacing, CO2 laser treatments use ablative methods to create microscopic injuries to the epidermis and dermis. Having full control of the variable wavelengths of this method allows for accurate and symmetrical applications, leading to a more even and rapid spread of healthy skin cells.
This process resets the face and body by stimulating the production of collagen and elastin for a purified, healthier appearance with the durability to withstand much of what life has to throw at your skin.
With the help of CO2 lasers, everything from wrinkles to scars to dull and sagging skin can be alleviated. Additionally, CO2 lasers effectively treat skin discoloration such as sun spots. CO2 laser therapies are performed by a licensed medical practitioner with the knowledge and training to achieve optimal and safe results.
CO2 treatments are customizable and less-invasive than previous methods. Most patients only experience downtime of up to five days.
Customize Your Laser Treatment With Boosters
Your Clear + Brilliant® or CO2 laser treatment can be combined with boosters for customized, fuller results.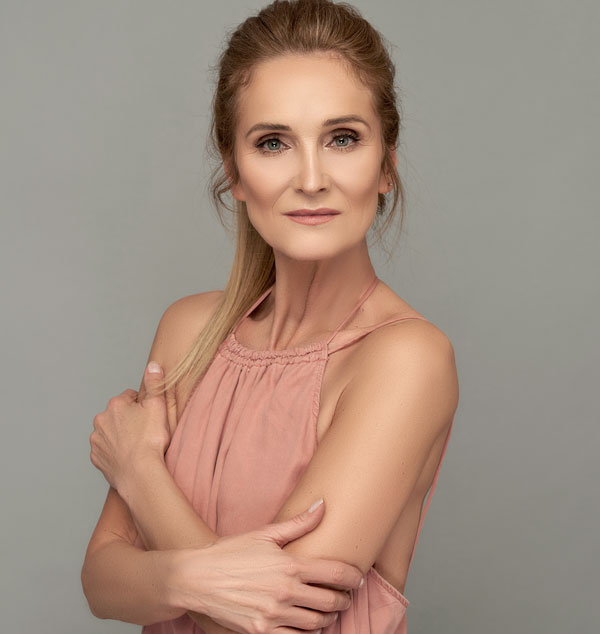 Model
Unsure of the right laser treatment for your needs? Our KAO Aesthetic professionals will help customize your skin rejuvenation treatments to address your unique concerns. Call us to set up an appointment.