Injectables in Santa Monica
Evidence-based, results-driven™
-
Kao Aesthetics
Model
Injectables are non-surgical cosmetic enhancements placed below the skin's dermis to address common skin and aging concerns or correct irregular injection results.
Injectable treatments are among the most commonly used non-surgical cosmetic procedures today because of their extensive ability to temporarily reverse many of the most complained about aesthetic concerns, including age-related fine lines and wrinkles, expression-causing lines, and facial volume loss.
These effectively treat fine lines, wrinkles, volume loss, over-filling, and cystic acne.
KAO Aesthetics offers an extensive line of product suites to address your various aging or facial contour needs.
Boost Your Way to More Youthful Facial Contours
Neurotoxins
Neurotoxins address expression-causing lines and wrinkles in the face (most commonly around the eyes and mouth). These lines are known as dynamic wrinkles, and they develop due to repeated muscle contractions.
Neurotoxins, most notably BOTOX® Cosmetic, are injected into the muscles to temporarily block chemical signals that inform those muscles to contract. Without this transmission, the muscles in question remain relaxed.
*These treatments do not paralyze your muscles or prevent your face from moving.
Neurotoxins consist of a purified form of botulinum toxin Type A and are commonly used to smooth glabellar lines (frown lines between the eyebrows), forehead lines, crow's feet, smoker's lines (around the mouth), and other expression-causing lines in the face.
Steroid Injections
Steroid (or cortisone) injections are used to reduce and eliminate cystic acne. These treatments are often injected into the live nodule to reduce inflammation and shrink the cyst. Steroid injections can often reduce or eliminate the appearance of the nodule within a few days.
Fat Injections and Renuva®
For those looking for long-term volume restoration, fat injections using autologous mini fat transfer or Renuva® can permanently enhance fullness in the face, hands, and body.
Renuva® is an exciting new injectable option that mimics the results of natural fat transfer without requiring fat extraction.
Renuva® consists of an allograft adipose matrix that contains the same collagen, growth factors, and proteins as fat. Once injected, your body replaces this material with natural fat, restoring naturally full facial and hand contours.
This option is ideal for patients who do not have adequate tissue for the transfer, making the long-lasting results of fat injections available to all patients. Renuva® is also beneficial in treating cellulite dimples, flattening depressed scars, and smoothing liposuction irregularities.
Not finding the exact injectable for your needs? Our KAO Aesthetic professionals will help customize your treatments to address your unique concerns. Call us to set up an appointment.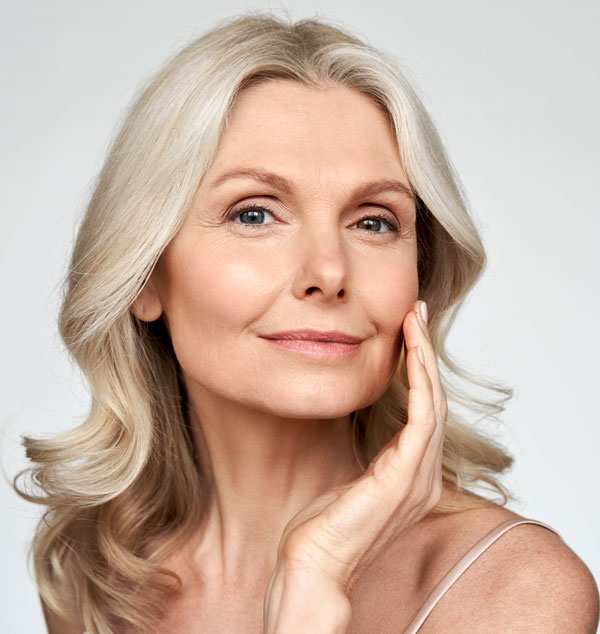 Model